We are a family business that established in the Bay Area in 2008. Being in the business since 2001, we have more than 10 years of experience digitizing, embroidering logos and personalizing apparel.

In 2012, we started to offer screen printing to our customers and wholesale blanks at very competitive prices from top brands and excellent quality in the market.

We believe quality as the top priority.

I have a nice experience to remember when I had restoring a hand-stitched tablecloth for a customer, where some stitches ran out. It was a beautiful heirloom that had names and dates, so I decided to hand stitch it back to its original state.

Creating new designs is very entertaining, and restoring pieces loaded with family history is very fulfilling as well.

Thanks for shopping with us!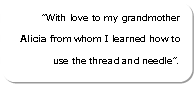 ©